"Helping businesses and individuals understand one another clearly" 
Ubiqus is a language service provider dedicated to providing accurate reliable solutions in the realm of  translation, interpretation and transcription.
We are experts in ensuring individuals and organisations understand the proceedings of meetings, hearings, conferences, seminars and more.
Ubiqus is the 4th largest professional language service provider in Western Europe.  Ubiqus UK operates as a subsidiary of  the larger entity Ubiqus Group.
As a multinational organisation with offices across the globe, we focus on delivering quality, reliable and responsive language services.


In Numbers
Experience providing language services

In History

Client Satisfaction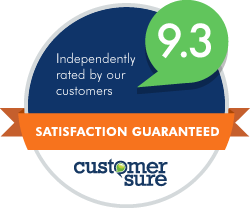 Customer Sure are an independent third party who work with Ubiqus UK as a whole to evaluate our client satisfaction. Consequently Ubiqus sends out monthly satisfaction survey to recent clients. Indeed,  it is important to ensure that we respond to client feedback and suggestions to maintain reliable, high quality and responsive services.

Internal Processes & Associations
| | |
| --- | --- |
| In 2017, Ubiqus UK was awarded the ISO 9001:2015 certification | Ubiqus is committed to reducing it's environmental impact as well as spreading good practice. |
| Selected by Bosch and the global Congress Rental Network (CRN), as the sole representative of the CRN in the UK. | A member of the Association of Translation Companies (ATC), one of the oldest professional groups representing the interests of translation companies in the world. |

Registration
Information
UBIQUS UK LTD
Company address: 291-299 Borough High Street, London SE1 1JG
Registered address: Greytown House, 221-227 High Street, Orpington, Kent, BR6 0NZ
Registration number:  3444614
Registered in England and Wales since 1997